SSA CTP: Crypto Trading Platform
Are you a business in the capital markets domain or an individual trader and have an idea for crypto trading? If so, our team of experts can formalize your strategy, validate it in a simulation environment, run it and monitor 24x7x365 all within SSA CTP.
SSA CTP delivers a set of tools and a framework for building AI-driven automated crypto trading solutions of any scale and complexity.
Crypto trading strategy automation workflow
Trading Strategy Formalization
Bot Implementation and Deployment
Simulation,
Fine-tuning and
Enhancements
Platform
SSA CTP comprises Dashboard, Mobile app, Bot framework and Simulation environment integrated together
Dashboard
Mobile app
Bot framework
Simulation environment
Dashboard
Bot management (start/stop, settings, clone, archive)
Bot monitoring
Notifications
Emergency stop
Account statistics
Bot statistics
Reports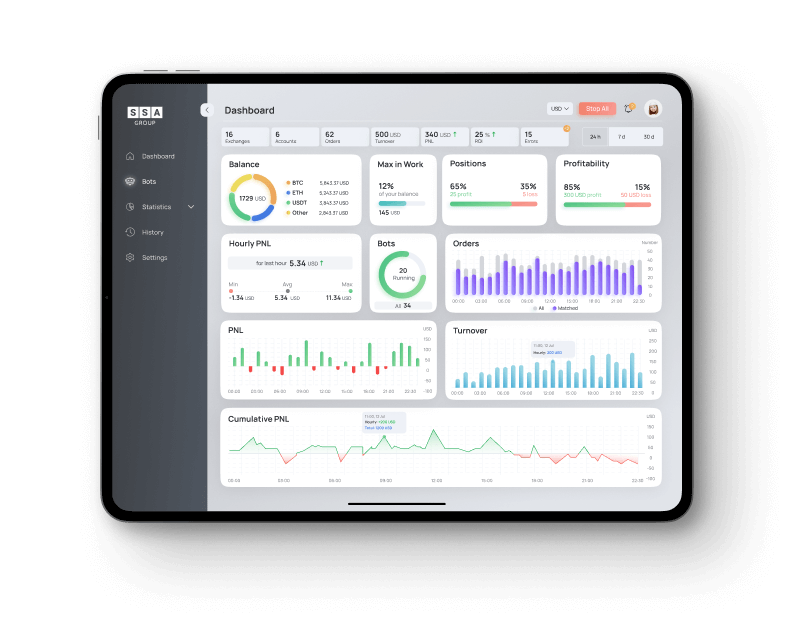 Mobile app
Bot start/stop
Notifications
Emergency stop
P&L, ROI for account
P&L, ROI per bot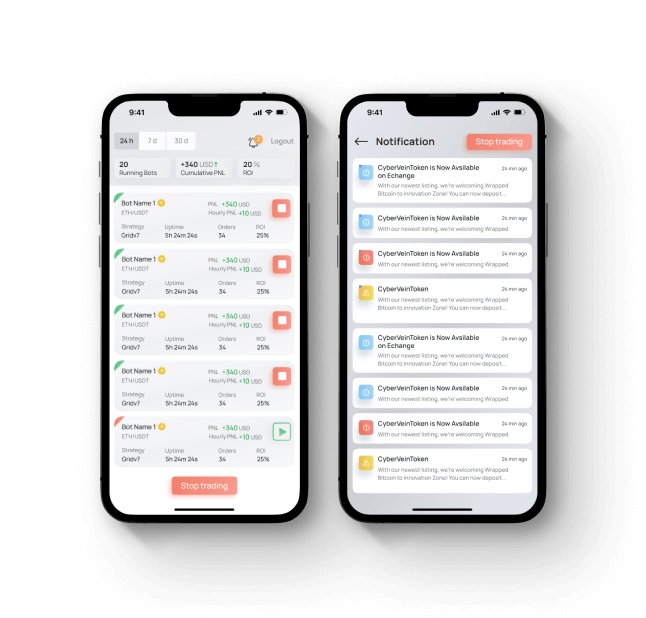 Bot framework
General Features
Collection of candles, market trades and market depth every second
Handling outdated and delayed data from exchanges
Handling order size, max number of orders, order rate limits of exchanges
Support for price slippages
Squeeze protection limits
State machine design (Warm-up, Trading, Waiting, Error, Liquidation, etc.)
Automatic recovery after errors
Multi-stage bot operation completion
Strategies
Grid-based trading strategies
Cross trading strategies
SMA, EMA, Volatility, PSAR indicators
Target-profit and size scaling for orders
Postponed stop-losses based on volatility and thresholds
Support for trading pauses depending on volatility, stop-loss events and velocity of price changes
Handling touches, rising and falling crosses and thresholds of indicators
Orders
Market and limit orders
Take profit orders
Custom stop-loss orders
Detached orders
Support for splitting orders
TTL for orders
Simulation or backtesting is aimed at validating the trading strategy using historical market data to assess its potential performance and effectiveness before deploying it in live trading.
The bot created for simulation (Simulation Bot) uses literally the same codebase as the bot for live trading (Live Bot) with the only difference in data sources, i.e. the database with historical data for simulation and real-time data coming from crypto exchanges for live bots.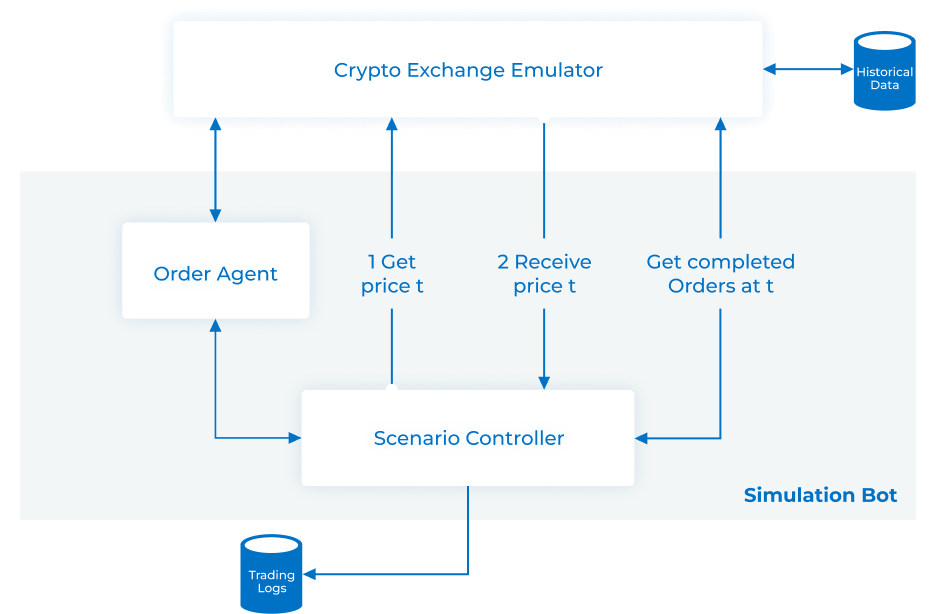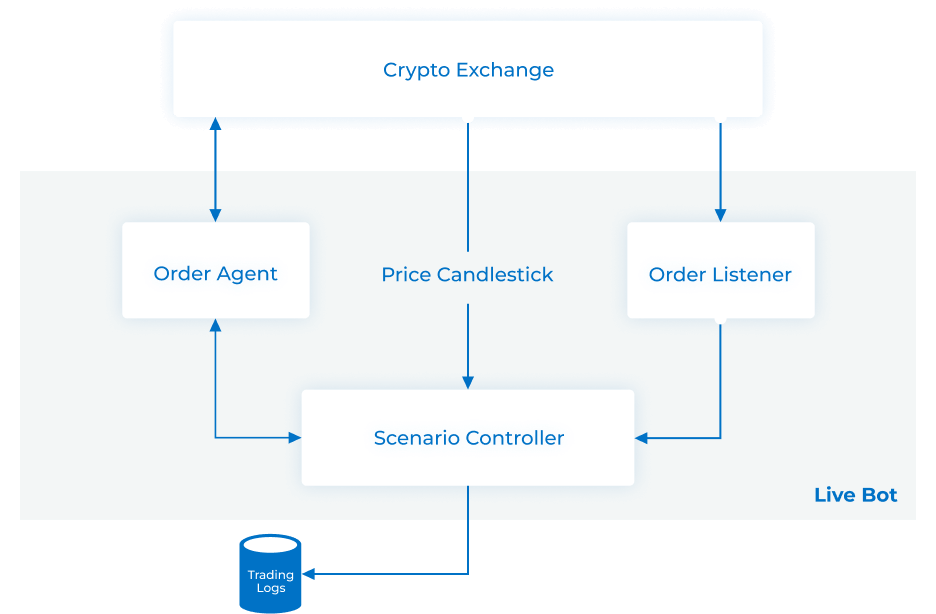 Historical Data
The historical data used for simulation includes price movements, trading volumes and market depth since January 1st, 2021 for the following pairs:
BTC/USDT
ETH/USDT
BTC/TUSD
XRP/USDT
BNB/USDT
LTC/USDT
Simulation
The discrete-event simulation allows to investigate the strategy performance 20-30 times faster than the actual time range.
Fine-tuning & Enhancements
Fine-tuning of different strategy parameters allows to choose the best configuration resulting in the optimal key metrics such as profit and loss (P&L), return on investment (ROI), drawdowns, win rate, etc. The accuracy of results is in the range of 5%.
Technical notes
Spot and Isolated Margin trading
Any instruments supported
One CTP account supports multiple exchange accounts
One bot supports one exchange and one instrument only
One bot per exchange account
Every bot operates in the isolated container environment
New bot launch time – 1 month on average
Crypto exchanges
Business model
3000 USDT
One-time per bot
Setup fee
15% profit
min 1000 USDT
Maintenance fee, monthly per bot
Trading strategy concept
is the intellectual property of the Client
Source codes
are the intellectual property of SSA Group
Your message has been sent!
Keep a close watch on your inbox. We'll get in touch with you in no time.
Have an idea for crypto trading strategy?
Please get in touch to formalize, simulate and run your strategy