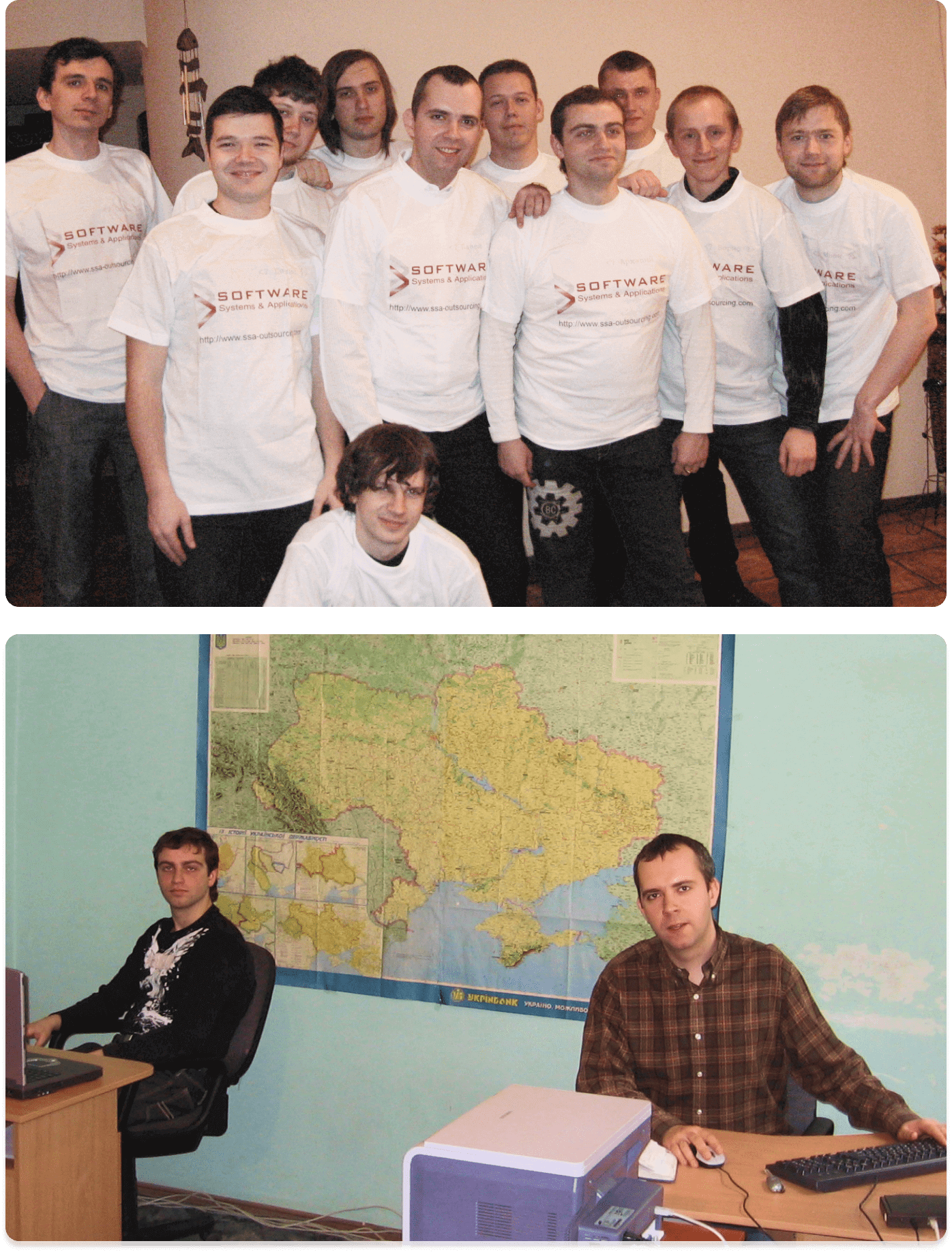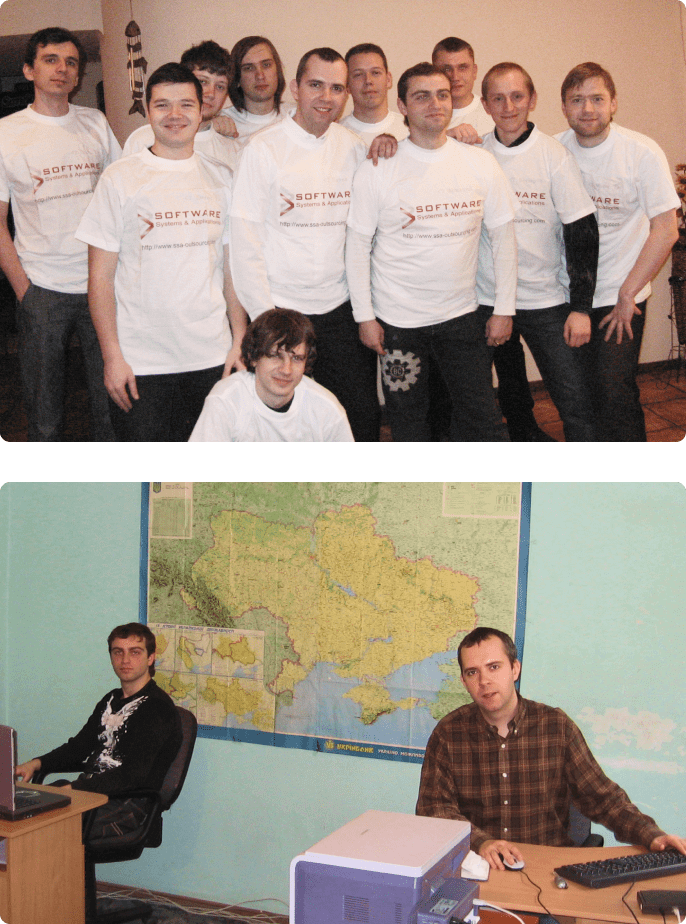 Launching the company
The company was established by four co-founders on March 27th, 2007. Before that, Taras, Arkadiy and Pavlo worked together in a small software company called HeliconSoft. Taras and Arkadiy used to be C++ developers, and Pavlo – a PHP developer. The fourth co-founder, whose name is Yaroslav, was an investor and in addition to that was initially responsible for legal matters. Subsequently, the shares of Yaroslav were bought back by three others.
The company's first office was in Kharkiv city center, located in an old building which was later demolished. Working conditions were hard and the office was regularly flooded during heavy rains or snowfalls. The team members started their first projects such as website development on WordPress and C ++ and hired first 8 developers.
Geography: Kharkiv (Ukraine)
Team: 12
Technologies: PHP, C++, HTML/CSS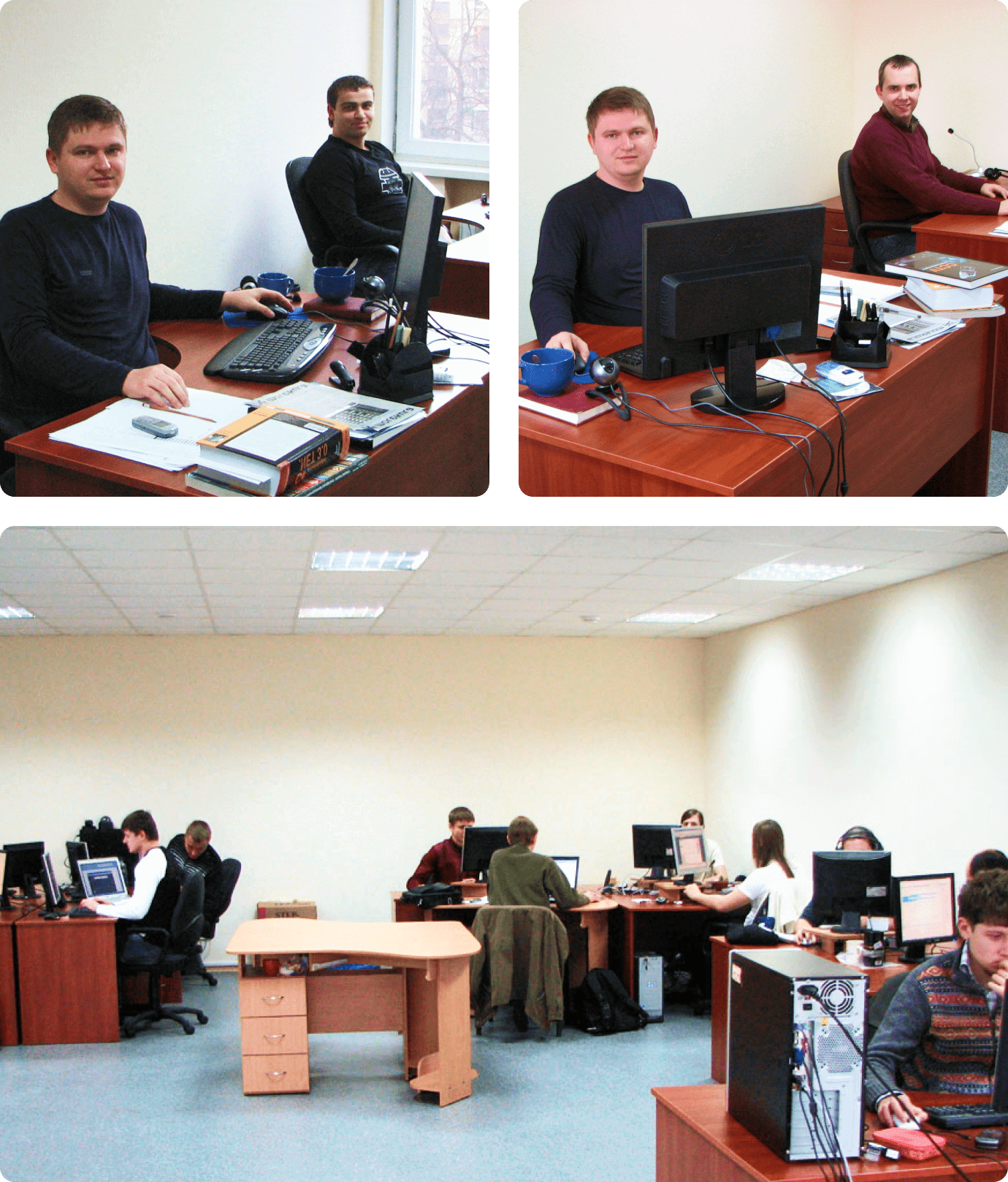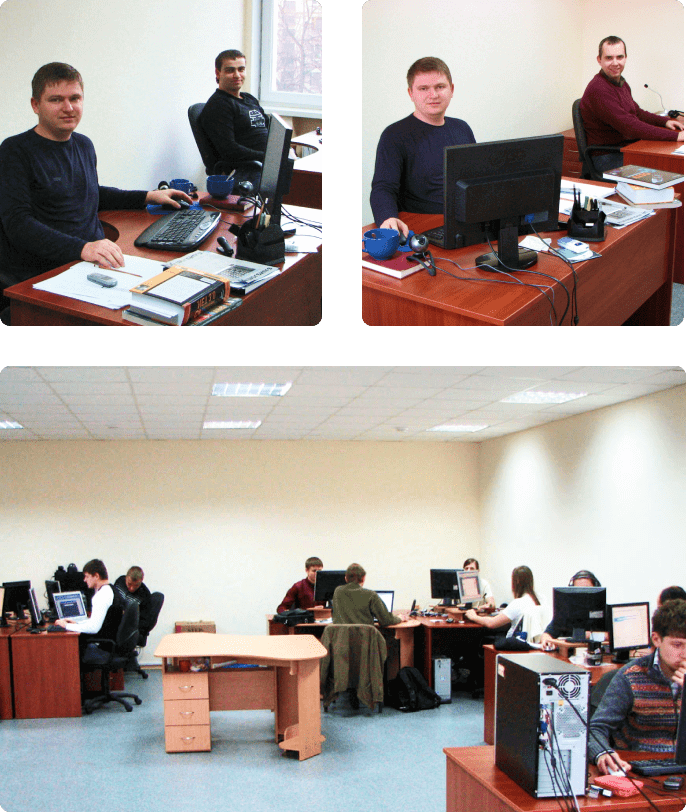 First long-term clients
At that time, the company started working on their first .NET projects.
SSA Group signed a contract with their first major partner from the United States, a manufacturer of industrial tools. Besides, the Dutch IT Consulting agency hired SSA Group launching a long-termed partnership that lasts to this day.
SSA Group moved to a new office in Aristocrat business center. By the end of 2009, the company grew its staff to 23 employees.
Geography: Kharkiv (Ukraine)
Team: 23
Technologies: .NET, ASP.NET, Databases, Magento

Industries: Marketing & Media, Retail & Wholesale, Gambling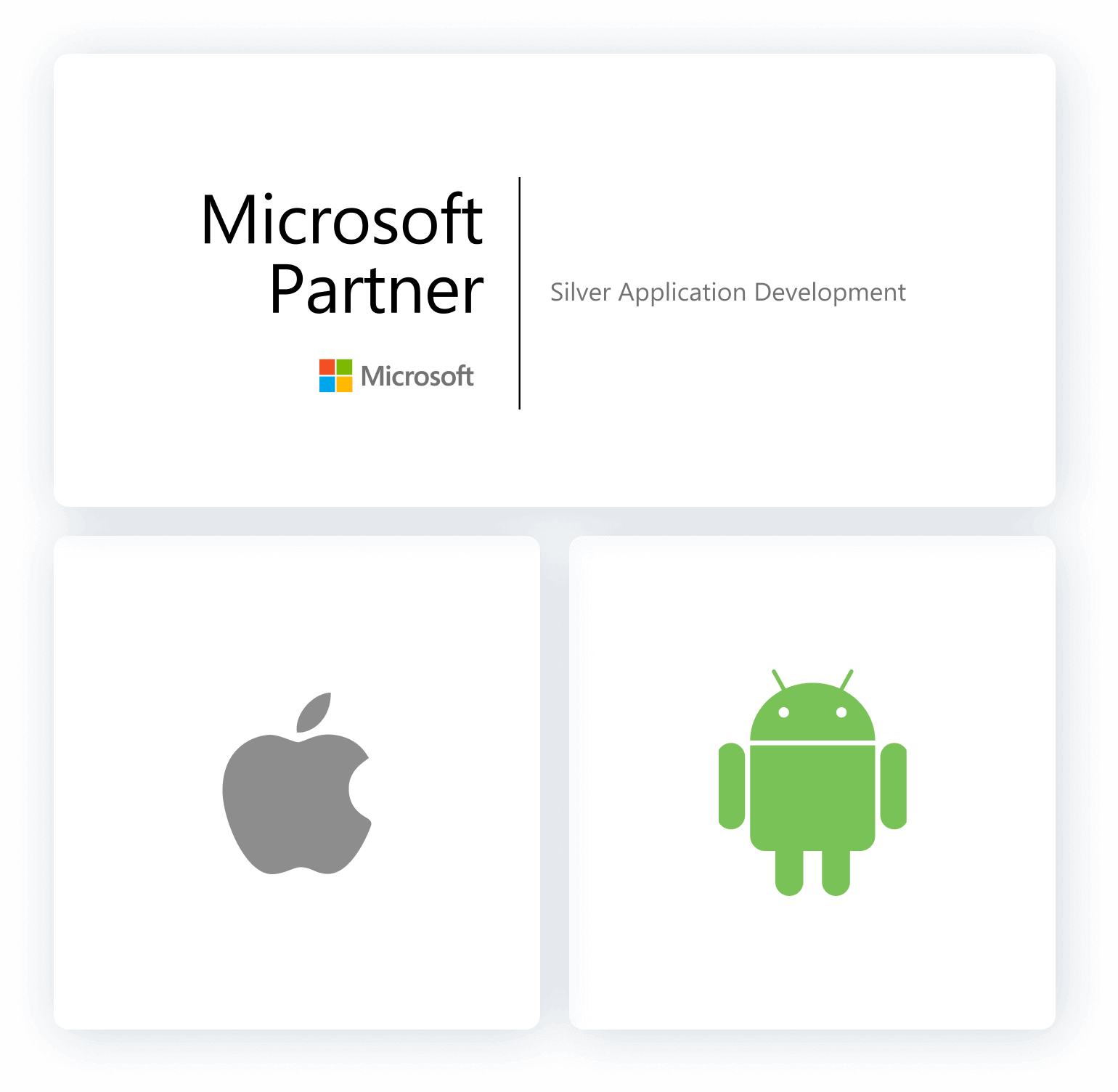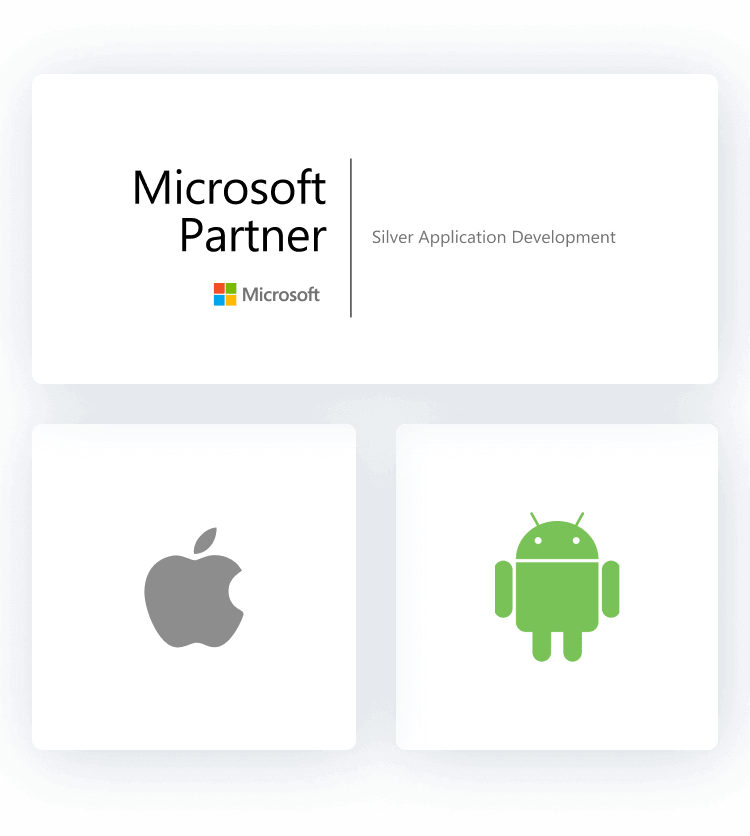 Start of mobile app development
SSA Group became a Microsoft partner, attaining Silver Application Development Competency.
At the same time, the company started working on mobile app development. The first mobile project was Falling Bricks for iPhone 3GS with the game mechanics similar to Tetris.
The company grew to a team of 36 and moved to a new office in Megapolis business center with an area of 180 sq.m.
Geography: Kharkiv (Ukraine)
Team: 36
Technologies: iOS, Android

Industries: e-Commerce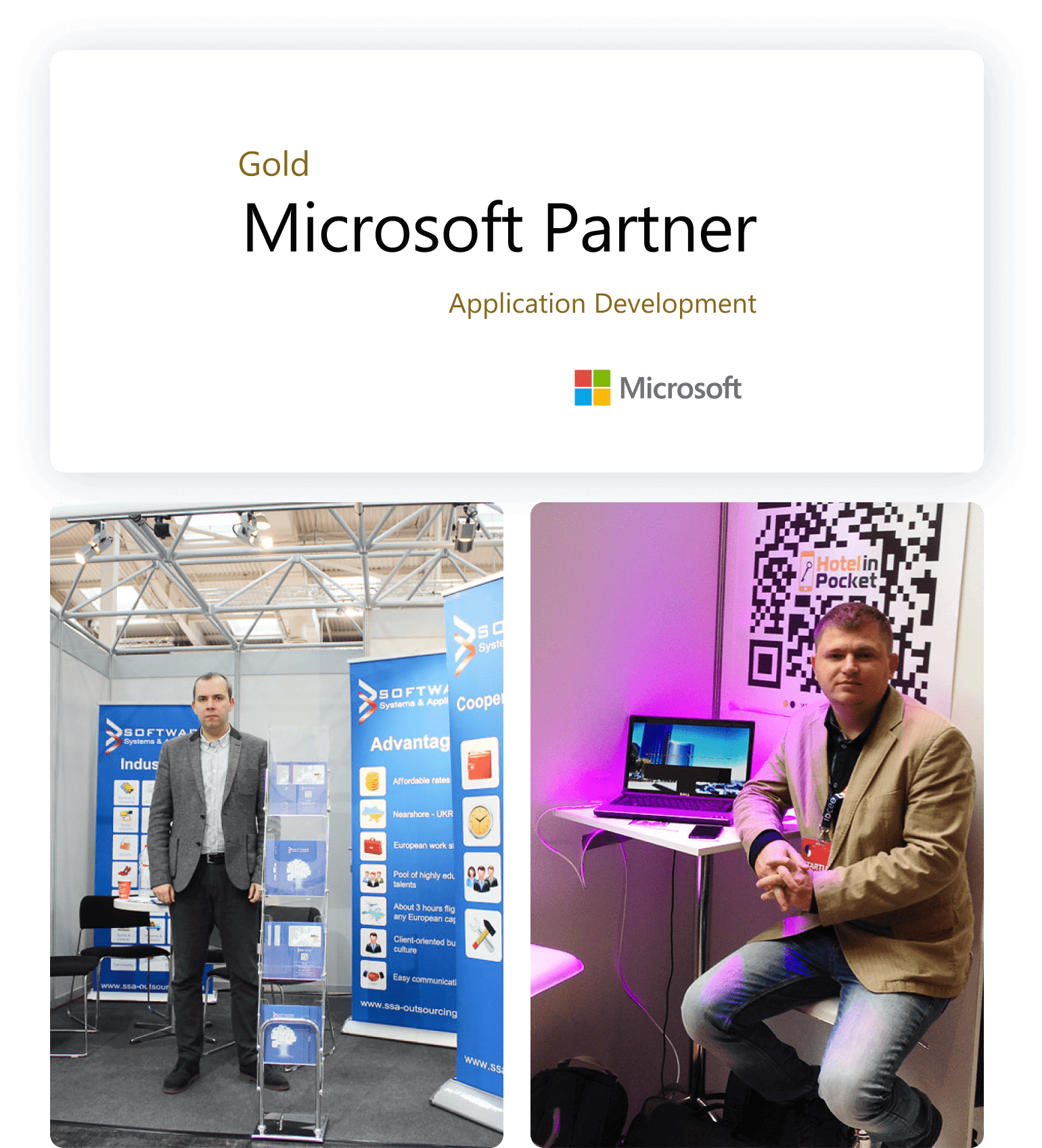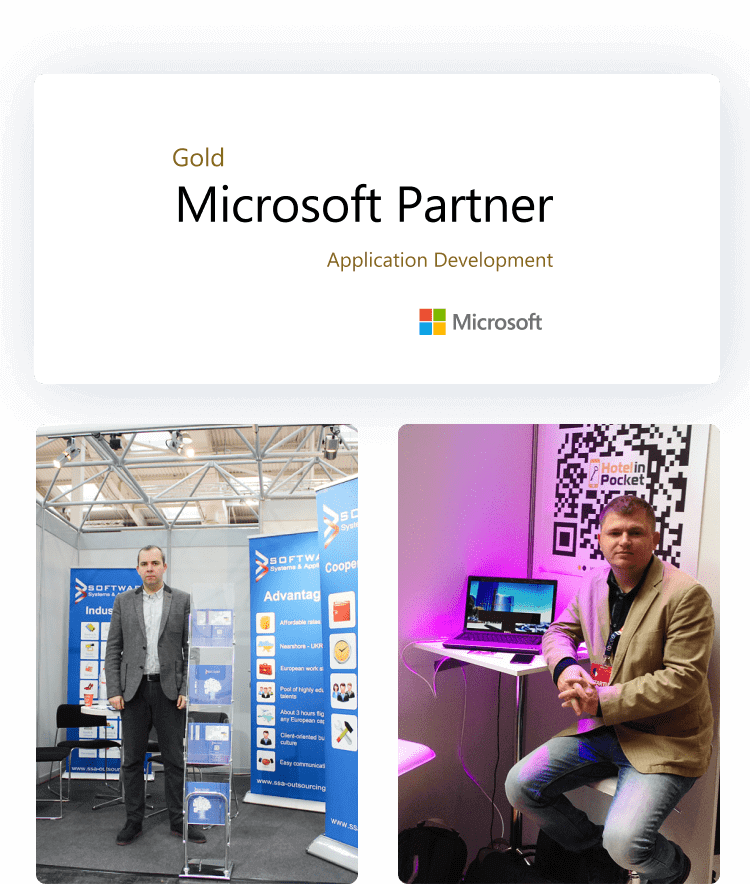 First own products
The company received the Microsoft partner certificate – Gold Application Development Competency.
A new office was opened in Kharkiv in Capitalist business center.
SSA Group made the first attempt of product development by launching the Event-O-Planner project in tandem with the Dutch partner and setting up its own two start-up projects HotelinPocket, a platform for rapid development of mobile apps for hotels, and Secret Horse, a gambling platform for predicting horse race outcomes and automated betting. Since then, Event-O-Planner and Secret Horse have become successful and demonstrate organic growth.
SSA Group attended the largest computer expo CeBIT held in Hanover, Germany. It was the first experience of taking part in world-class IT events.sq.m.
Geography: Kharkiv (Ukraine)
Team: 40
Technologies: Azure, AWS

Industries: Travel & Hospitality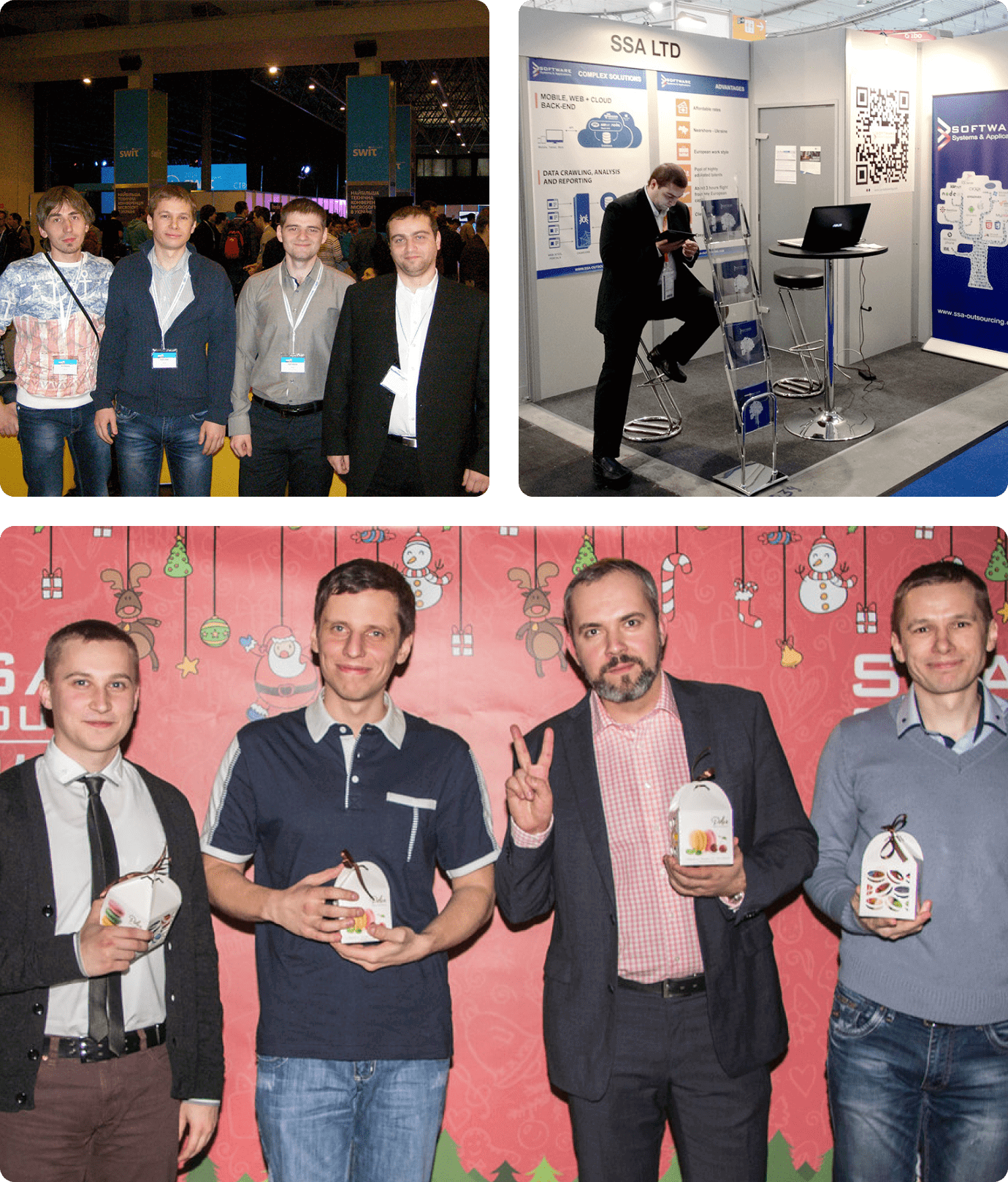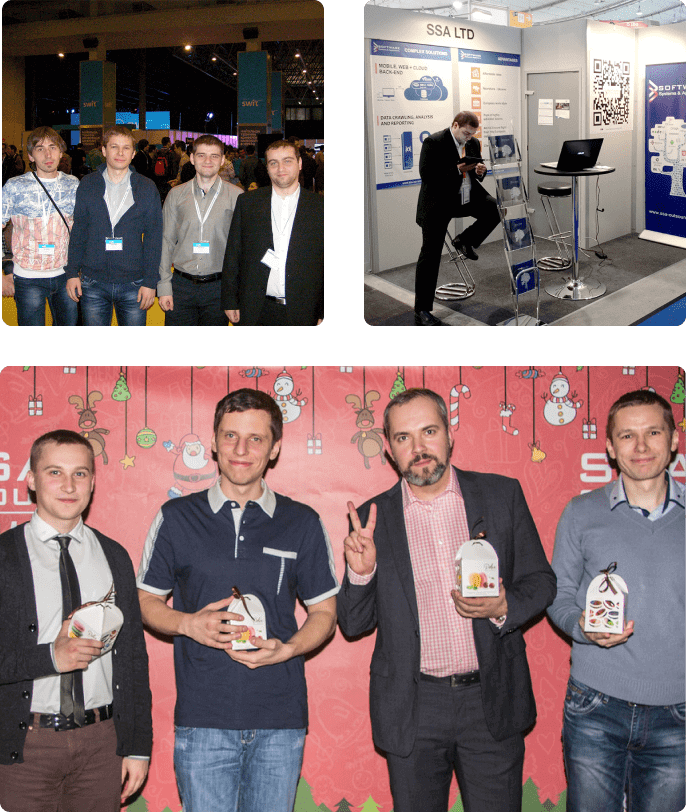 Focus on improvement
In 2014, a new management system was implemented, and the following technical departments were formalized:
Databases, Desktop and Mobile solutions
.NET CMS and Azure solutions
Frontend, PHP and Magento solutions
The company was actively engaged in improving business processes and infrastructure modernization.
SSA Group participated in the Web Summit, an international technology conference, and the world's largest tourism trade fair – the ITB Berlin. Also, the company attended CeBIT for the second time and took part in Startup Turkey, the event which brings together startup founders, investors, and venture capitalists.
Geography: Kharkiv (Ukraine)
Team: 61
Technologies: JS Frameworks, Angular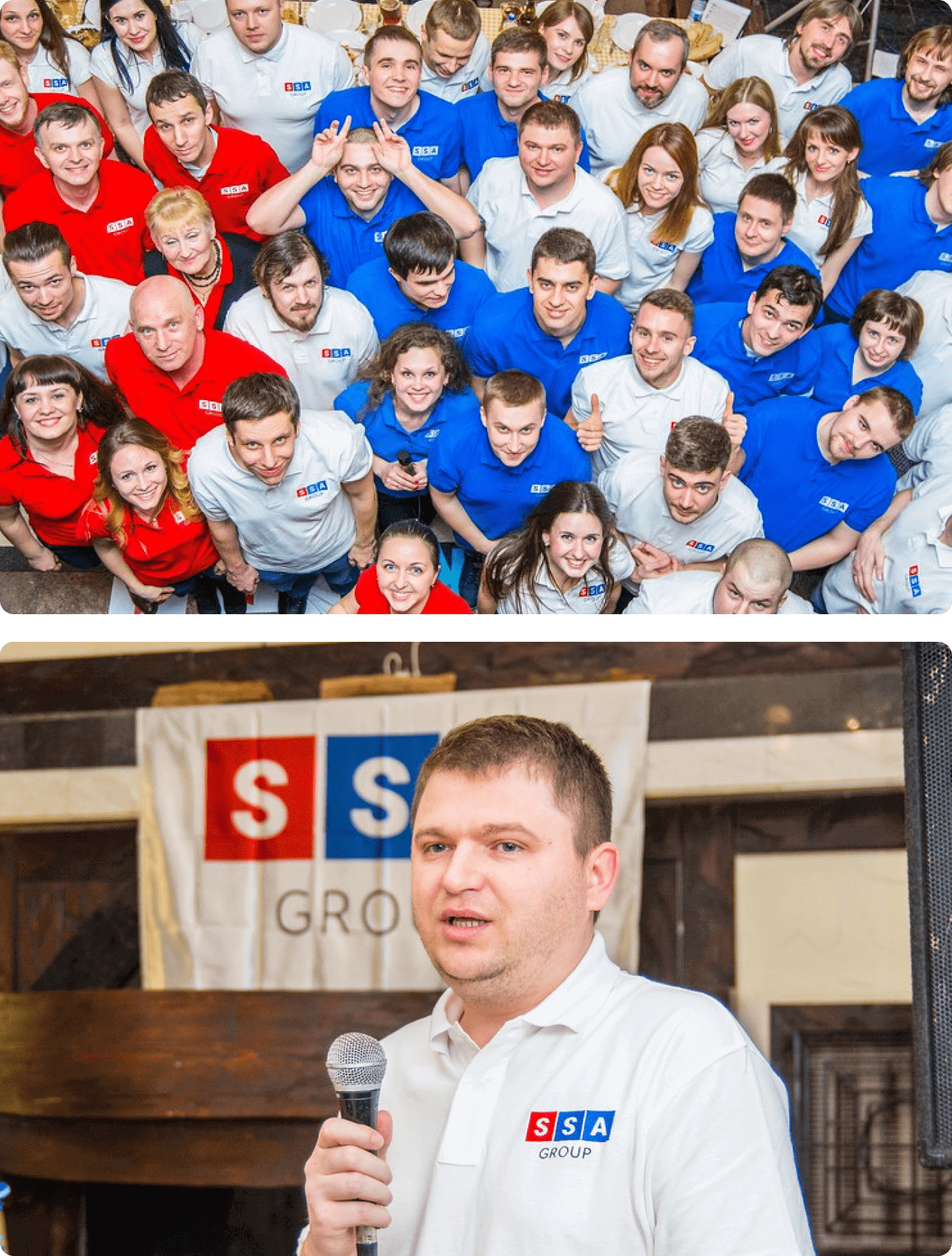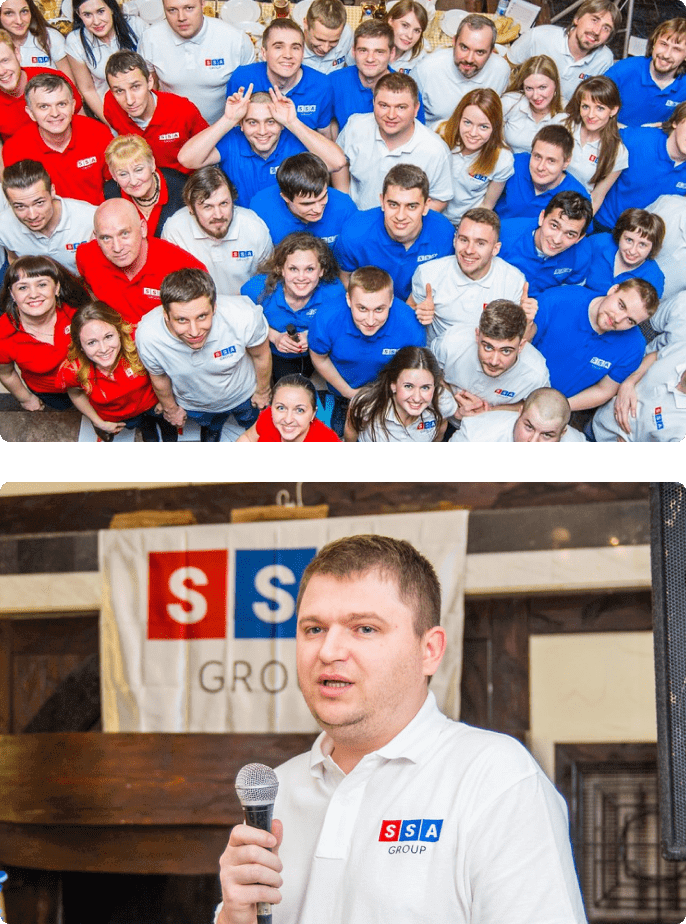 Company reinvented
The company successfully underwent complete restructuring. That year, the Administrative department was organized, and the technical departments were reviewed based on the idea of focus on specific services, resulting in the following departments:
SSA Data & Desktop
SSA Mobile
SSA Backend
SSA Frontend
SSA Ecommerce
Also, formalization of internal business processes was implemented, and new offices were opened in Kharkiv with the total area of office premises of 700+ sq.m.
Geography: Kharkiv (Ukraine)
Team: 86
Technologies: Xamarin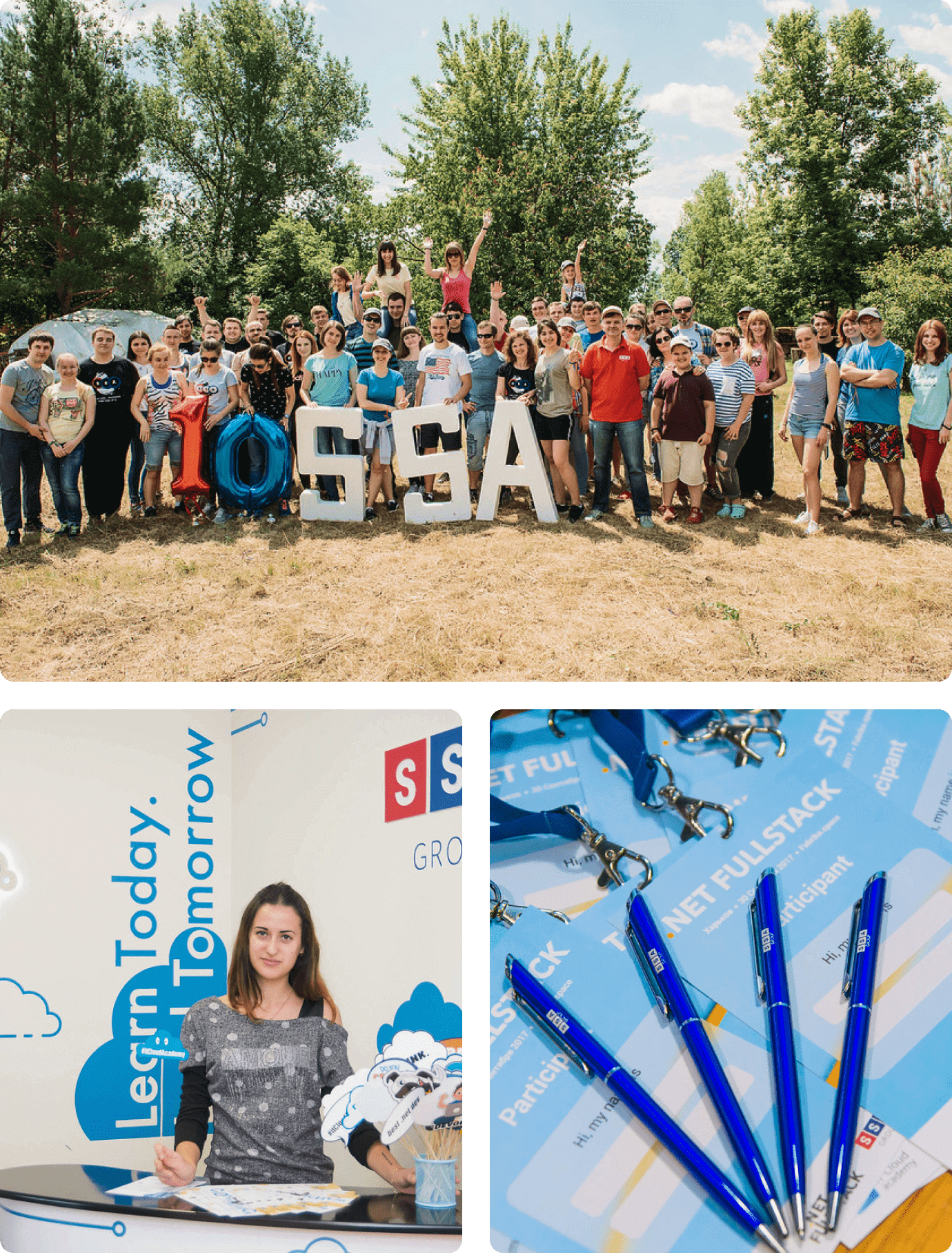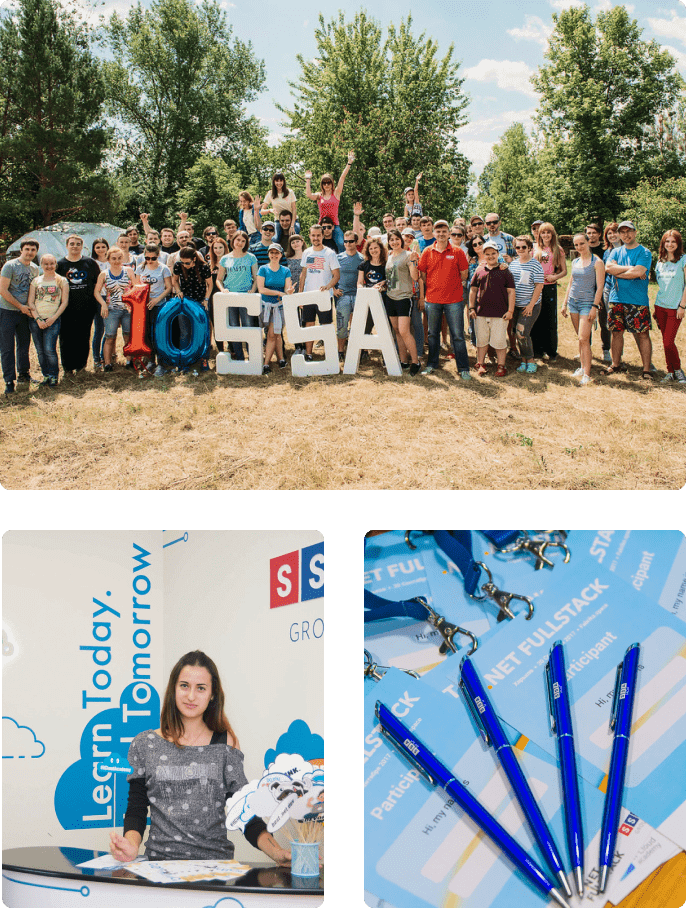 10th anniversary & Expansion
The company opened its first new office outside Kharkiv, in Dnipro, the third biggest city of Ukraine. Also, the third Kharkiv office in "Poema" business center was opened aimed at hosting two new departments, namely Sales and Marketing departments.
SSA Group took the first steps in IT education field to get skilled human resources. IT Cloud Academy was acquired. Subsequently, IT Cloud Academy became a training center that offers a variety of courses in software development, IT-recruitment, Internet marketing, as well as English language courses for IT specialists.
SSA Group earned Kentico Gold Partner Certification.
In the same year, the SSA Group hosted its first conference on .NET technologies called ".NET FullStack".
SSA Group expanded the staff to over 120 employees, and the total office area exceeded 1000 sq.m.
The company celebrated its 10th anniversary.
Geography: Kharkiv and Dnipro (Ukraine)
Team: 124
Technologies: Vue, React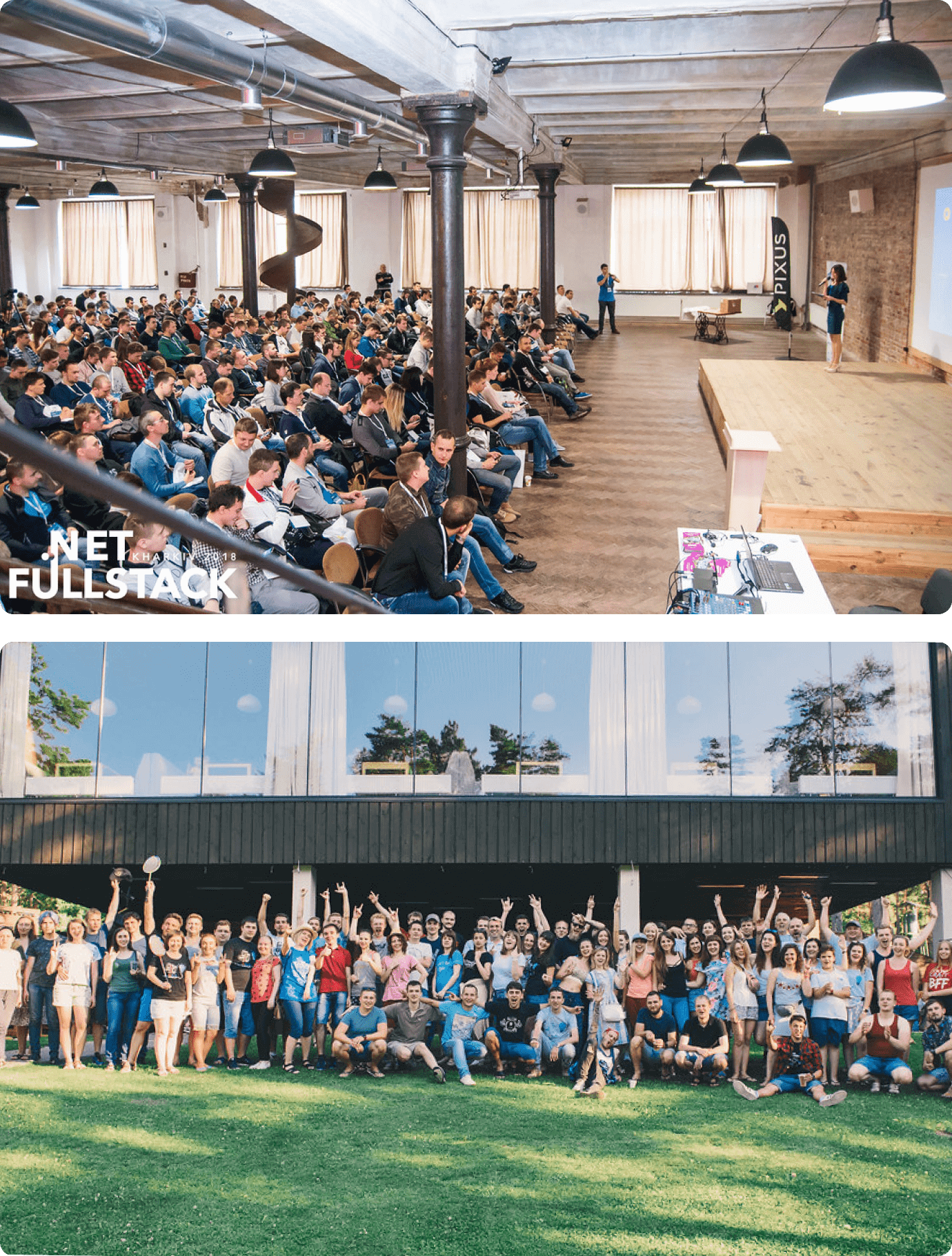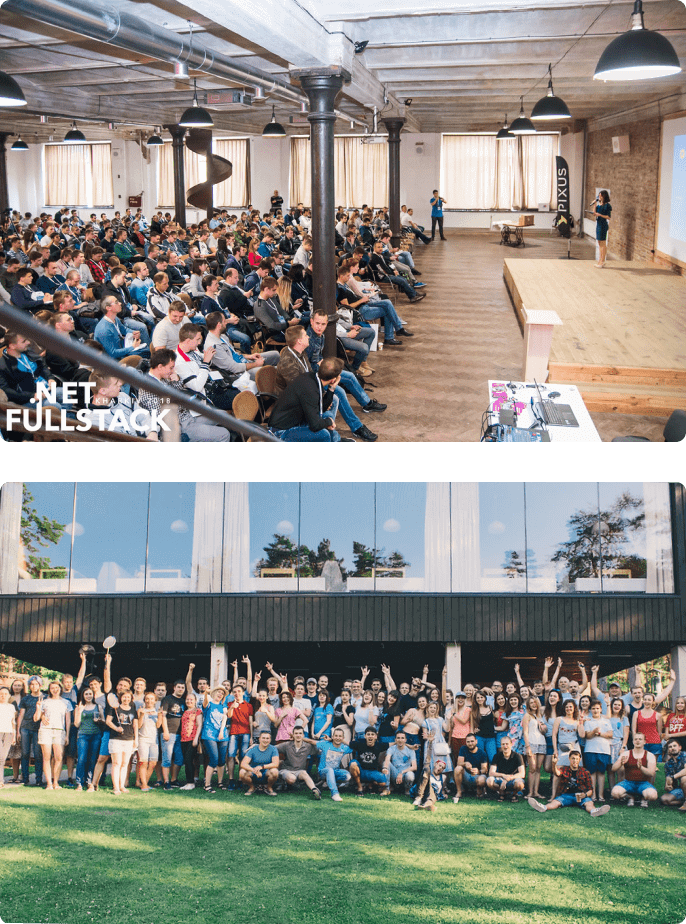 Reinventing business strategy
SSA Group acquired Applikey Solutions, a mobile solution provider with headquarters in Kharkiv. In this way, the company increased its market share in mobile development.
That year, SSA Design and SSA DevOps departments were formed. The co-founders started turning aside from direct management of the technical departments and focused on sales, marketing, recruitment and management of operations to create conditions for scaling and improvements.
IT Cloud Academy was actively developing and launching new IT courses. The training center moved to its own office in the business center Solaris, which became the 4th office in Kharkiv.
The academy hosted the second .NET FullStack conference, which brought together over 500 specialists.
Geography: Kharkiv and Dnipro (Ukraine)
Team: 155
Technologies: Power BI, Azure DevOps, Zabbix

Industries: Financial services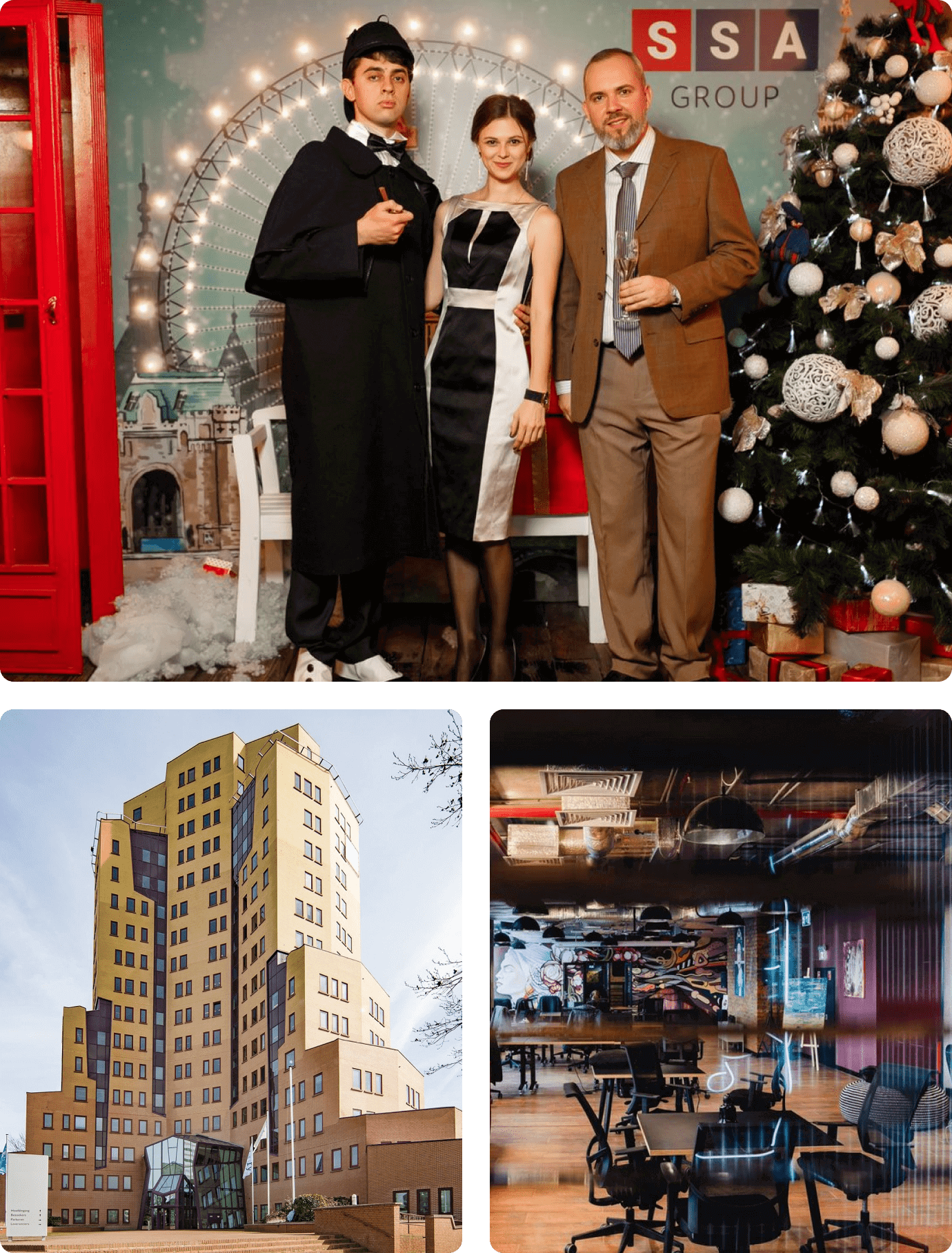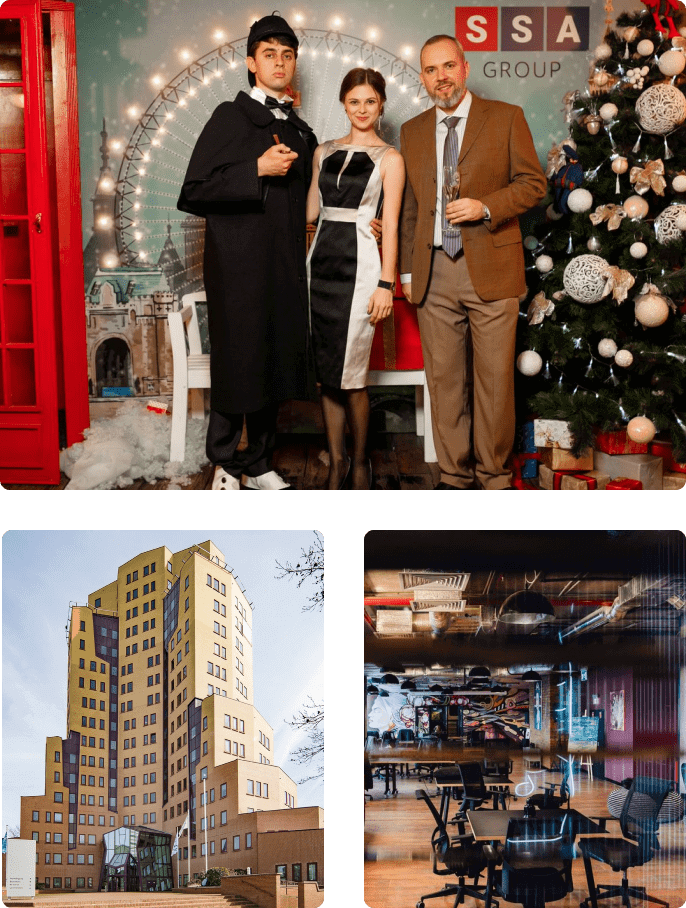 Strengthening sales, marketing and recruitment
With the idea of covering a full cycle of software development, the concept of SSA PMO and SSA Quality departments was formulated resulting in 10 technical departments in total so far.
This year, the process of recruitment department reorganization was launched to improve the talent search processes and to strengthen positions in attracting highly skilled specialists.
In spring, SSA Group opened R&D offices in Kyiv and Lviv that helped to double the talent pool coverage in Ukraine. Also, a sales office in Amsterdam, the Netherlands was opened to meet the demand in being closer to our clients. It became the first office located outside Ukraine and the 8th office of the company.
Geography: Amsterdam (the Netherlands), Kharkiv, Dnipro, Kyiv, Lviv (Ukraine)
Team: 175
Technologies: ASP.NET Zero, PostgreSQL, PowerShell 6, Azure Cosmos DB

Industries: Oil & Energy, Entertainment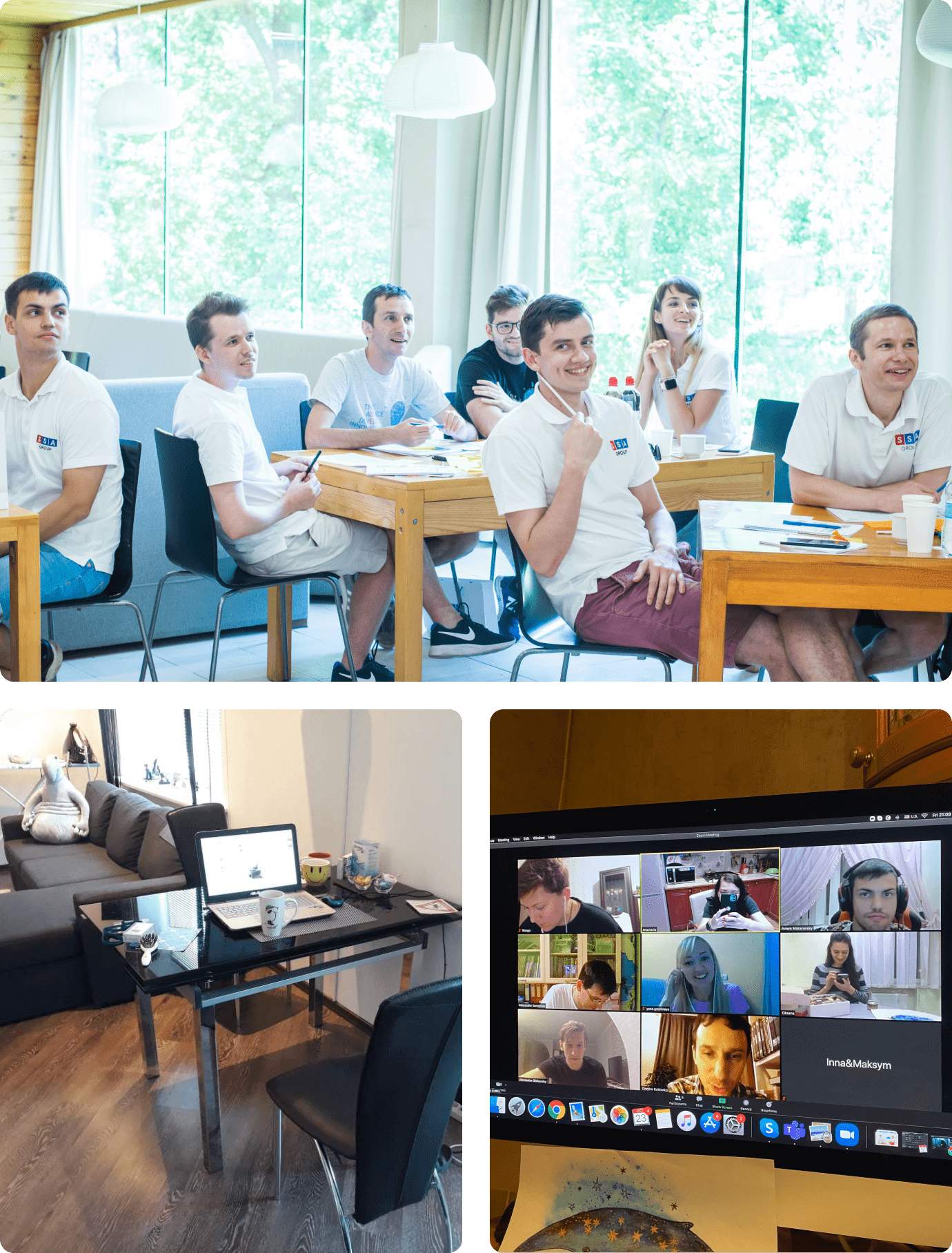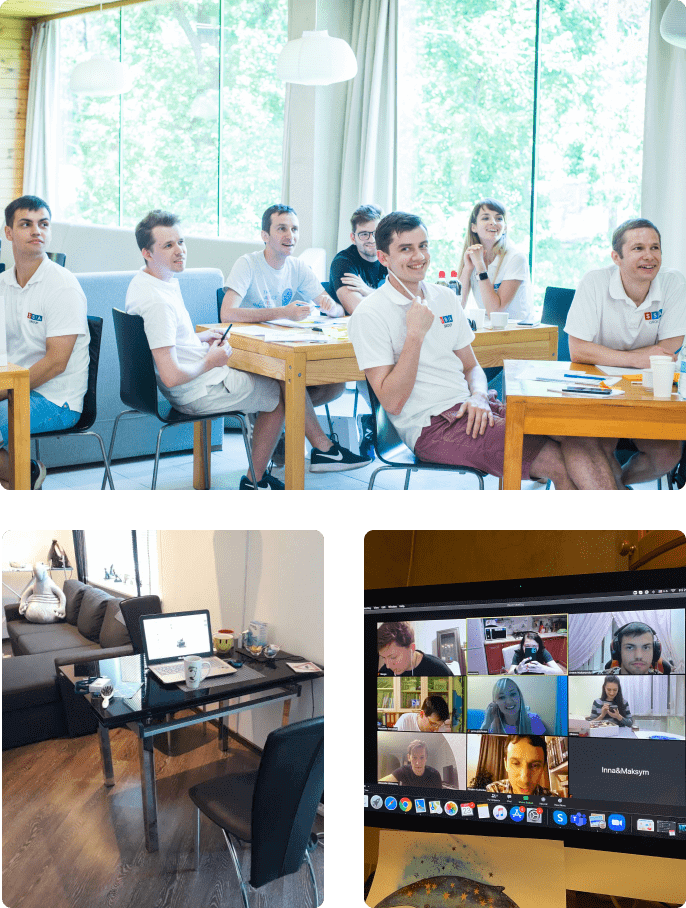 Weathering the downturn
The COVID-19 pandemic has changed day-to-day life in the company. Transitioning to remote work and making it as effective as on-site work required great effort. However, SSA Group not only improved its existing business processes but created new ones to maintain workforce productivity during the pandemic.
SSA Group has shifted to online learning, launching regular technical webinars and workshops for its employees and colleagues from other companies. In 2020, we strove to enhance the seniority level of our software developers, IT specialists and administrative staff. This year, the company confirmed its Gold Competency in Application Development and obtained a new Gold Competency in DevOps through Microsoft Partner certification.
The company has launched projects with nine new clients from the USA, Europe and Scandinavia. In addition to accepting projects from the eLearning and Construction & Engineering sectors, our team gained experience developing software for business administration and the healthcare industry: two sectors that increased in demand during the downturn.
Geography: Amsterdam (the Netherlands), Kharkiv, Dnipro, Kyiv and Lviv (Ukraine)
Team: 181
Technologies: Blazor, Flutter, .NET Core 3.1, gRPC, C/C++

Industries: Healthcare, eLearning, Construction & Engineering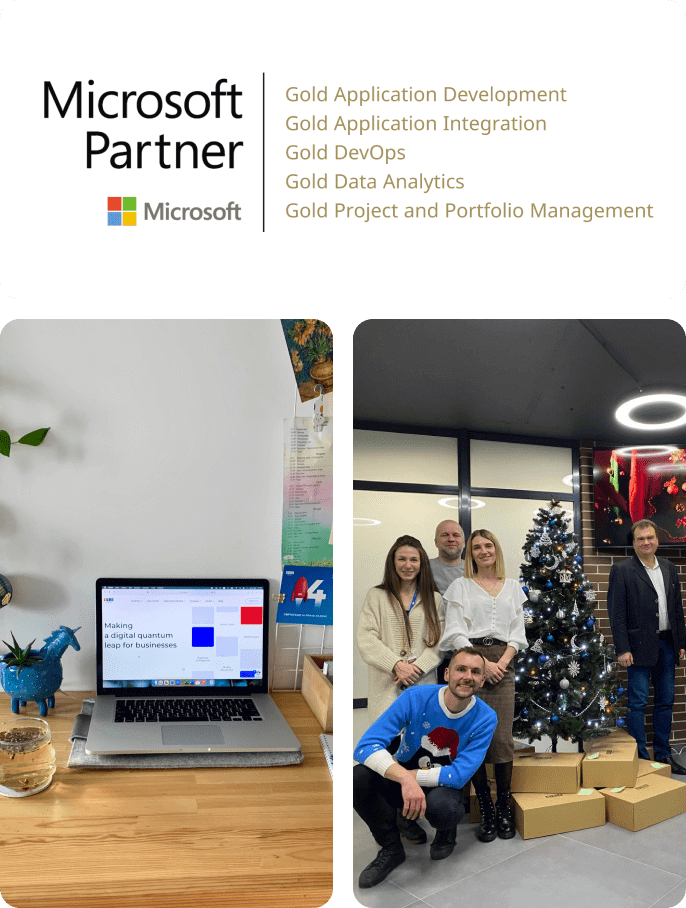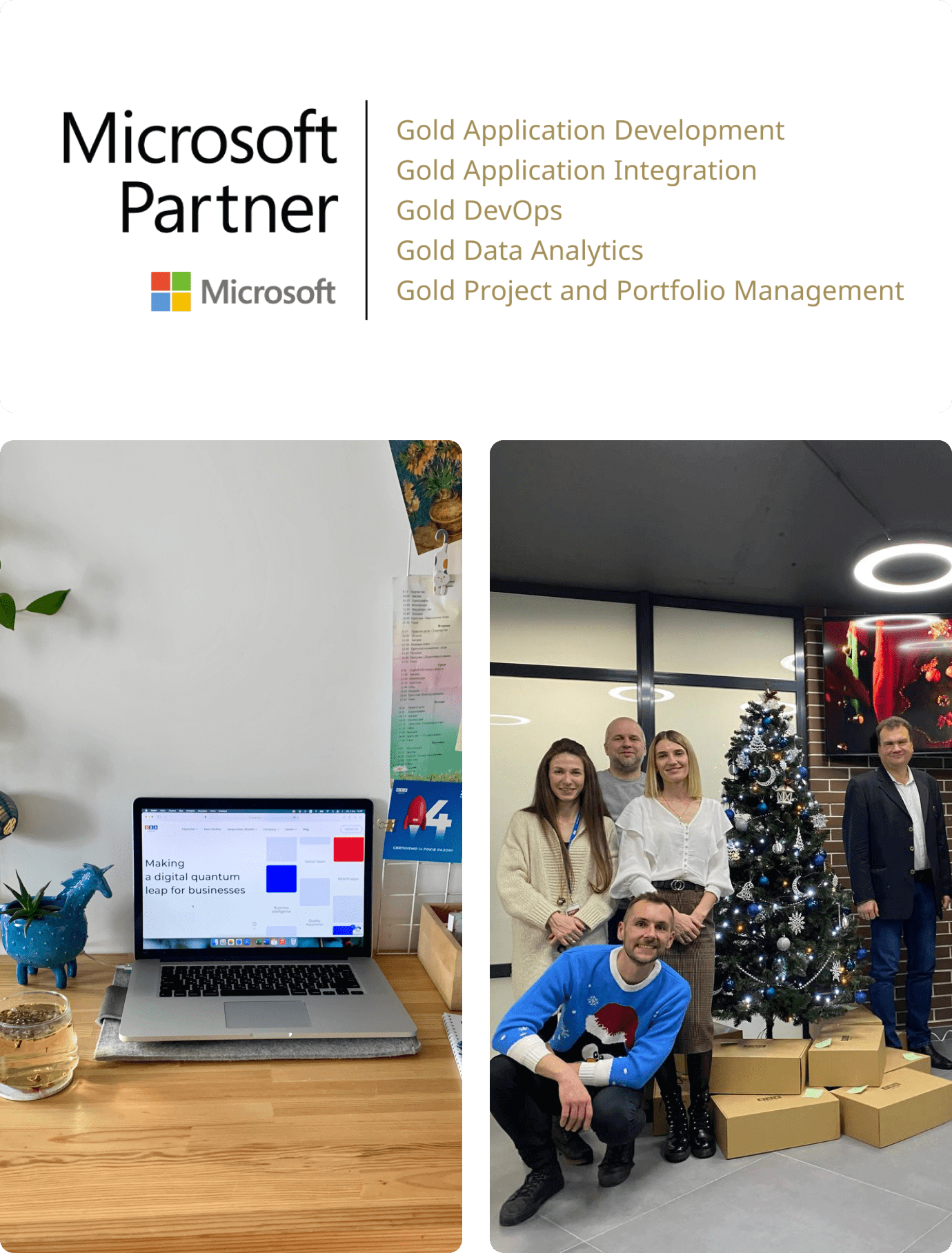 Working in 'double remote' mode
SSA Group has learned to be effective while working in 'double remote' mode. The pandemic allowed the company to understand how to operate and communicate distantly not only with clients but also with its employees.
In 2021, SSA Group changed and adapted business processes to address the unprecedented need for acceleration and attention to detail. In addition, the company has renewed and strengthened its Recruitment, Marketing and People Partners teams, thereby laying a solid foundation for sustainable growth.
SSA Group has continued to expand its technology stack, increasingly focusing on full-stack solutions. Constantly striving to enrich its list of competencies as a Microsoft partner, the company has attained six golden competencies: Application Development, Application Integration, DevOps, Data Analytics, Project Portfolio Management and Communications.
In 2021, SSA Group embarked on projects for fifteen new clients from Sweden, Norway, Denmark, Germany, Ireland, the United States and Canada. A notable event of the year was the opening of the new Lviv office.
Geography: Amsterdam (the Netherlands), Kharkiv, Dnipro, Kyiv and Lviv (Ukraine)
Team: 185
Technologies: Python, R, Shopware

Industries: Logistics, Warehouse Management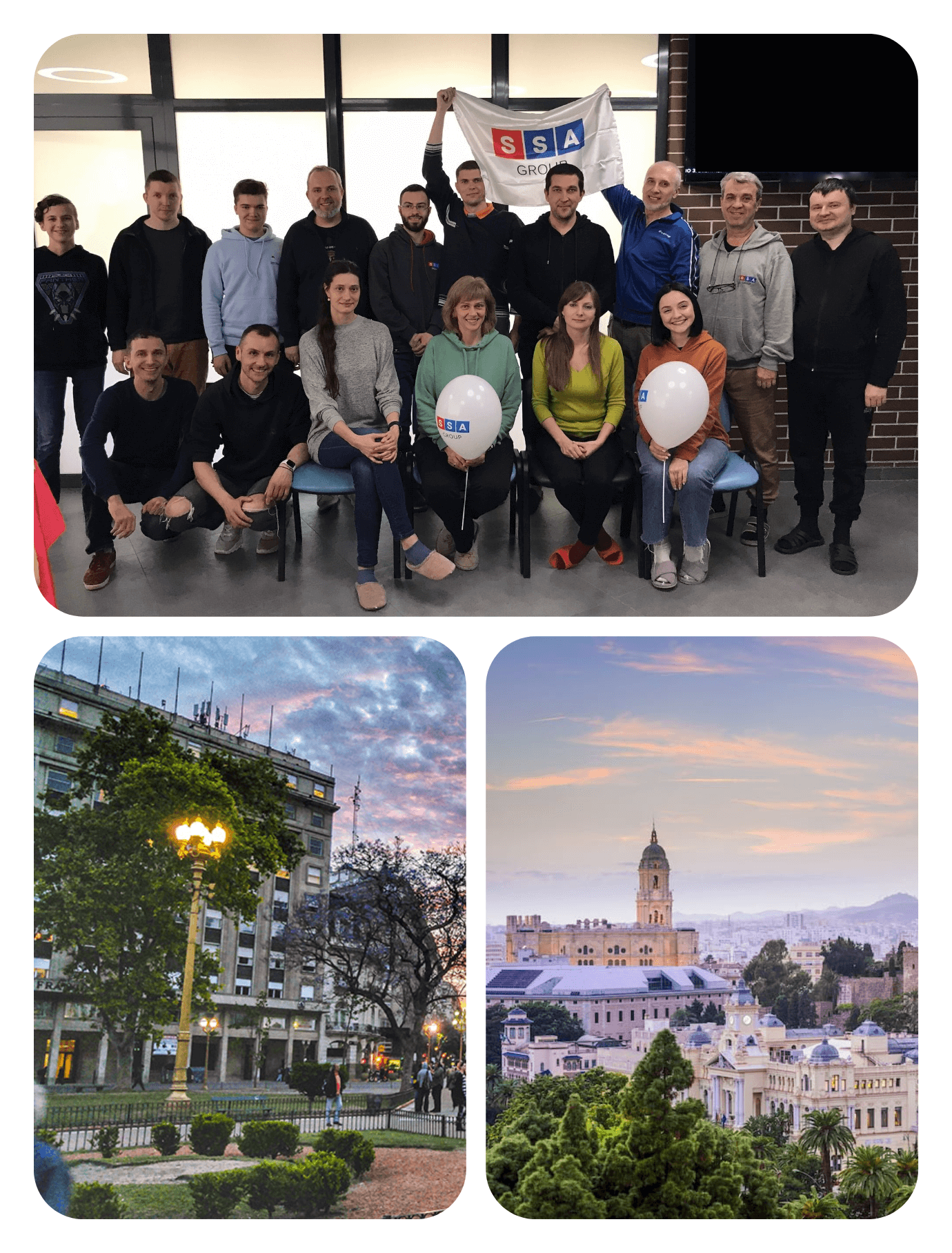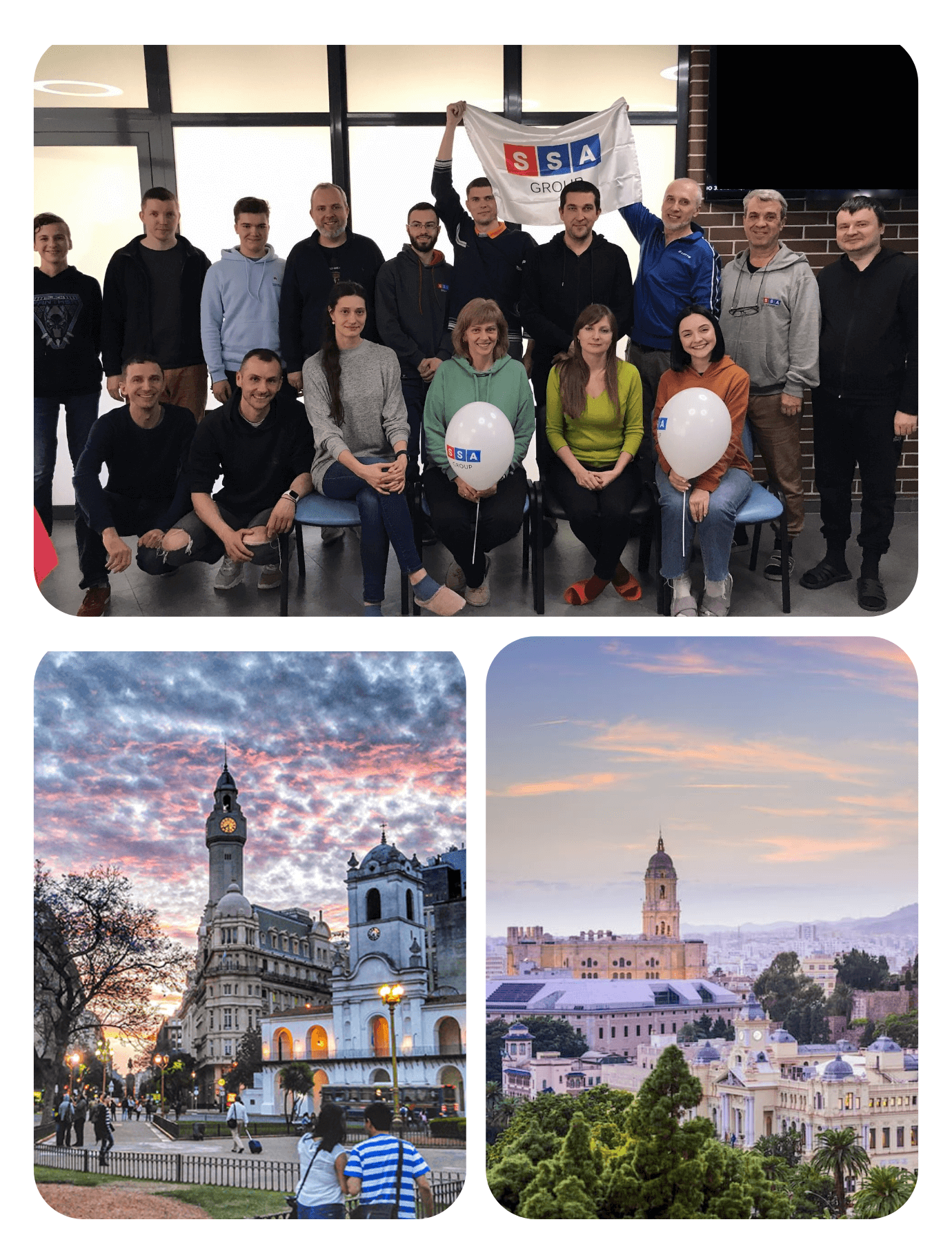 Sticking to the business despite challenges
The full-scale invasion in Ukraine in 2022 has affected many business processes, financial markets, employee management and service outsourcing. As a result, a new reality has changed SSA Group's business strategy.   
Since the beginning of the war, more than 30% of SSA Group specialists have been relocated to the EU and other countries worldwide. Meanwhile, the company has developed a strategy to transform into a global software development partner and to build R&D centers in Spain and Argentina. Opening international offices allows the company to guarantee its clients stable and continuous service delivery.    
Despite all the challenges and difficulties in 2022, SSA Group became more reliable and united than ever. 
Geography: Malaga (Spain), Buenos Aires (Argentina)